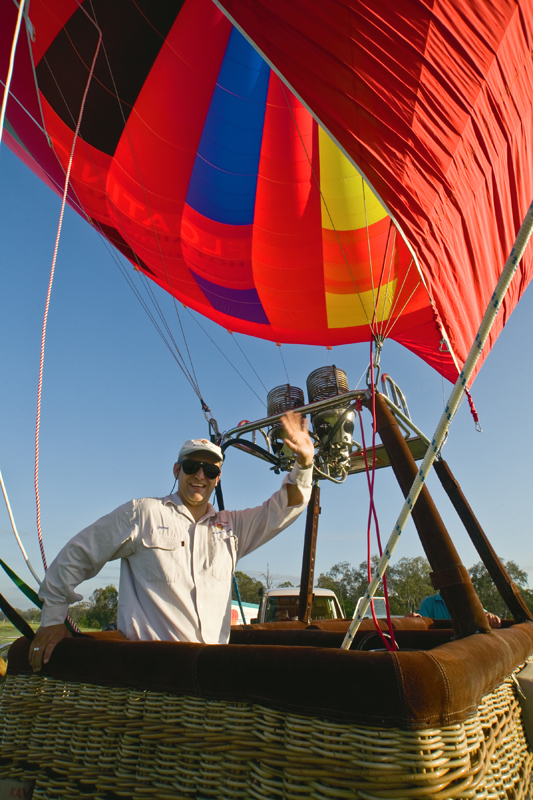 Our Story
Graeme and Ruth Day, two very energetic and motivated Queenslanders, have been operating Floating Images as a personal and professional boutique ballooning business in the South-East Queensland region since 2001.
Floating Images Hot Air Balloon Flights is the closest hot air balloon company to Brisbane. Chief Pilot Graeme operates every flight, drawing on 30 years of commercial ballooning experience on three continents.
A French journalist once described him as "an Australian who is raring to go, with an infectious smile revealing his love of an adventurous life". True to his adventurous spirit, Graeme fell in love with the romance of ballooning in its birthplace, France, three decades ago when a backpacking trip to the UK took an unexpected turn.
Thirty years later, Graeme shares his passion for the wonder of hot air ballooning and his intimate local knowledge with his passengers. His in-flight commentary is known for being full of stories and jokes.
To this day, Floating Images remains the first and only balloon company to offer a unique city and country flight in the South-East Queensland region, taking in views of Ipswich, Scenic Rim and Somerset in Greater Brisbane.
Book with Floating Images Hot Air Balloon Flights to experience the wonder, romance and gentle thrills of ballooning for yourself.
How it all began
What do hiking in Scotland, French students and four-wheel driving Alsatian mountains have to do with ballooning in South East Queensland? Graeme will tell you himself.
"In 1990, while hiking in the Scottish highlands, I got stuck in a hikers' hut for a few days due to bad weather. With not a lot to do besides talk to a group of French students, I was soon invited to visit Alsace in eastern France.
"One of the students invited me to visit her family home in the Valley of Munster. It was a beautiful winter's day when friends of hers phoned and asked if we wanted to go help crew their balloon flights.
"It was my job to follow the balloons in a four-wheel drive, passing through picturesque Alsatian villages along the valley floor and up into the stunning snow-capped Vosges Mountains. The feeling was infectious.
"I stayed in the region and occasionally crewed for the balloon company. When the company's only crewmember suddenly left, I was offered full-time work. I spent the next six months learning everything I could about balloons, crewing, the region, the French language and Alsatian people.
"Word got passed around that there was an Australian working for the balloon company – many doors and friendships blossomed, and I was accepted into the homes and hearts of the tight-knit Alsatian people.
"The opportunity to train as a pilot arose via a French Government employment scheme, which included an intense six-week French course. Armed with an English/French dictionary I learnt to read the balloon manual and weather in French so I could gain my French balloon licence."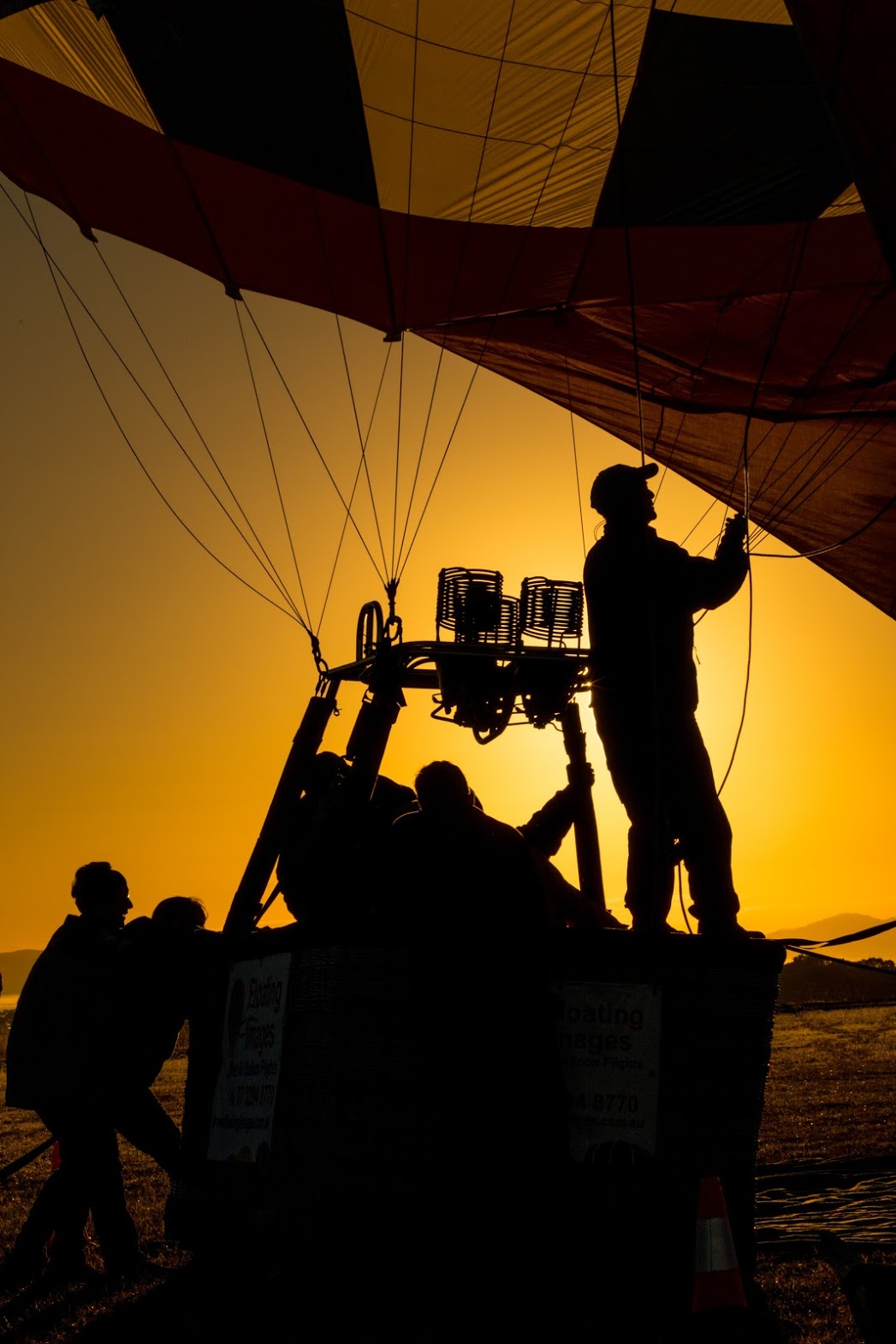 Three decades later
Fast forward to the present and Graeme has flown balloons in France, Switzerland, Italy, Canada, New Zealand and Australia. Highlights include flying over the summit of Mount Blanc (Europe's highest mountain at 4809m), watching the sun set three times in a day, and participating in spectacular balloon fiestas.
Graeme is an approved CASA chief pilot with more than 3000 hours' flight time and 30 years' ballooning experience. He's flown balloons of every size – from a single person "cloud hopper" up to balloons that carry 20 people. Currently the largest Floating Images balloon carries up to 10 people, making for a personal experience.
While Graeme takes the glory in the sky, Ruth is behind the scenes using her business and event management skills to make the overall Floating Images experience run as smoothly as a gentle balloon flight itself.
This small Australian family business prides itself on putting smiles on the faces of passengers with personal and professional service, which is why in over 20 years of business the company has won many awards. Floating Images also consistently receives five-star ratings from customers on TripAdvisor and Facebook.
Floating Images has brochures available in English, French, Korean, Japanese and Chinese (Mandarin), and Graeme is fluent in French, can speak some basic Japanese and is currently learning conversational Chinese (Mandarin).
"Graeme and his wife were fantastic and provided exceptional customer service. A girlfriend and I booked our flight to see the first sunrise of 2018. The experience was amazing! From the meeting point, balloon inflation, the scenic flight, balloon deflation to the breakfast, we thoroughly enjoyed all aspects of the experience. Thank you for a memorable way to see a new year in!"
Amya, January 2018


How safe are balloons?
Ballooning is one of the safest and simplest forms of aviation travel. Floating Images Hot Air Balloon Flights has a 100% safety record so you can be confident when flying with us.
Our balloons meet the strict guidelines of the Civil Aviation Safety Authority (CASA), the organisation that controls all commercial ballooning regulations in Australia. Graeme inspects the balloon every time we prepare to fly and it goes through a mandatory inspection every 12 months or 100 hours of flying (whichever comes first).
The balloon material is very strong, made out of a reinforced fabric called rip-stop nylon, and it is coated on the inside to prevent air leaks. It's very lightweight and heat resistant, as the top of the balloon reaches 100 degrees Celsius.
The technical details
CASA Issue Air Operators Certificate
Floating Images Aust Pty Ltd operates under Australian Civil Aviation Safety Authority (CASA) issued Air Operators Certificate (AOC) – SQ578387 for Charter Balloon Flights & Aerial Work – just like any airline in Australia.
CASA Approved Chief Pilot
Every Floating Images flight is taken by highly experienced Chief Pilot Graeme Day. Graeme has passed all the Australian CASA commercial balloon examinations and requirements to operate this commercial balloon business. Graeme also holds Canadian and French Mountain Hot Air Balloon Licenses.
Compulsory Aviation Insurance
Floating Images carries compulsory Air Carriers Liability Insurance, under the Air Carriers Liability Act. All of our balloons are covered by Air Carriers Liability Insurance.
CASA Approved Maintenance Organisation & Maintenance Authority personnel
Hot Air Balloons are registered Aircraft and are maintained just like any other aircraft. Floating Images is a CASA Approved Maintenance Organisation, and our Chief Pilot holds a Maintenance Authority to perform hot air balloon maintenance, safety inspections and repairs on hot air balloons in Australia. This entitles our company to do maintenance and ensures that our balloons and equipment are maintained to the highest standards in accordance with CASA rules and regulations.
CASA Balloon Audits
Floating Images has passed all CASA Audits to ensure compliance and high standards are maintained for more than 19 years.
CASA Approved Operations Manual
CASA Approved DAMP – Drug and Alcohol Management Plan
CASA Approved Fatigue Management System
Pilots flying commercially for Floating Images must hold a CASA issued Commercial Balloon Pilot License, current Aviation Medical, hold Aviation Security Clearance and have regular check flights.