Hot Air Ballooning in the Greater Brisbane region
Picture yourself tucked into a big wicker basket, the heat of flames occasionally dancing above and a gentle breeze taking you on a sky-high adventure. Admire breathtaking views as night turns to day and a patchwork landscape gently unfolds before your eyes.
Floating Images is a top-rated boutique ballooning company near Brisbane. Spend a morning drifting majestically and effortlessly over the stunning South-East Queensland countryside in a small balloon.
Each morning owner and Chief Pilot Graeme shares the magic, romance and sense of adventure the first French balloonists experienced in 1783. Passengers can feel confident and safe knowing Graeme has been flying commercial balloons for 30 years on three continents, the last 20 of those years in the Ipswich, Scenic Rim and Somerset regions.
The views, feeling of weightlessness and freedom make this unique experience one that will never be forgotten.
BOOK A FLIGHT NOW !    BUY AN EXPERIENCE VOUCHER
"Incredible morning and a lifetime memory that will be with us forever. Graeme, thank you for helping Dad fulfil a wish we were all able to share. If it is on your bucket list – this is your man. We are still floating."
Sarah
Why experience a flight with Floating Images?
Closest hot air balloon company to Brisbane
Floating Images is the closest hot air balloon company to Brisbane, and has been operating in the South-East Queensland region for more than 20 years. Our meeting point is an easy 30-minute drive from Brisbane and you can also reach us by train or bus.
Every flight is with the Owner and Chief Pilot
Owner and Chief Pilot Graeme Day has 30 years' experience flying balloons on three continents. He first fell in love with ballooning in its birthplace, France, and now finds joy sharing his cheeky wit, intimate knowledge of the local region and passion for ballooning with passengers. You can be confident booking with Floating Images as Graeme flies every balloon and has been running this business in the Greater Brisbane region since 2001.
One flight a day, only 4-10 passengers
We are a boutique balloon business and only operate one flight per day with no more than 10 passengers. Keeping things small means every person gets five-star treatment on a Floating Images flight.
Experience the city and the country
Our hot air balloon flights offer a unique opportunity to fly over city and country sights. Floating Images is the first and only balloon company that flies over the heritage city of Ipswich and western regions of the Scenic Rim and Somerset.
From the air you can see incredible bird's-eye views of Queensland's oldest provincial city of Ipswich, the Great Dividing Range mountains, Brisbane's skyline, the countryside of the Scenic Rim and Somerset and plenty more. Find out more about where we fly and what you can see here.
It's a personal, hands-on experience
From booking through to flying, Graeme and his wife Ruth handle every detail of the Floating Images Hot Air Balloon Flights experience. If you have any questions, expect personal service because putting smiles on passengers' faces is our priority – it's part of the reason why we have a five-star TripAdvisor rating and have won numerous awards.
All passengers are invited to join in the fun of inflating and deflating the giant balloon. Graeme stays with guests from start to finish and is happy to explain any aspect of how a hot air balloon flies and operates. Share the thrill of this morning adventure with your family, friends, overseas visitors, corporate guests and staff.
All inclusive
The only surprise should be that of your loved one when you give them the gift of a hot air balloon ride. We are small Australian family business and want you to have an unforgettable and joyous flying experience. The 1 hour flight, full insurance coverage, inflation & deflation site transfers, a restaurant breakfast and flight certificate are all included in the price.
BOOK A FLIGHT NOW !    BUY AN EXPERIENCE VOUCHER
Our most popular hot air balloon flight is the all-inclusive 1 hour flight package. We also have packages for groups, corporate events, proposals and you can even get married in a balloon (yes, really!). Check out our other packages.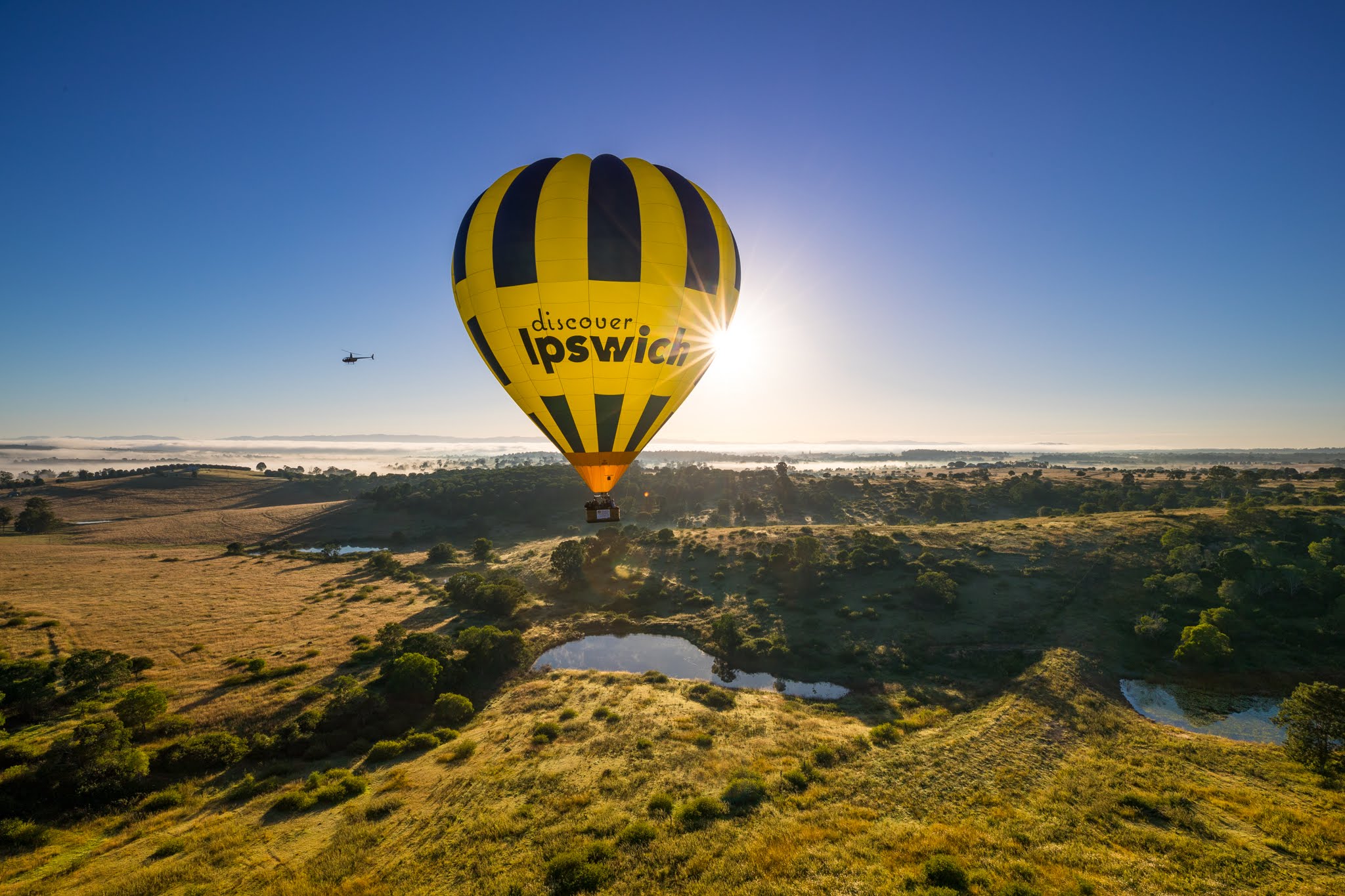 Approximately 1-hour balloon flight over Ipswich, Scenic Rim and Somerset regions – with city and country views
Restaurant breakfast after the flight
Peace of mind that you have chosen to fly with an owner-operator. Every flight is with Chief pilot Graeme
Personalised in-flight commentary
Passengers can assist with inflation & deflation of balloon (optional)
Free parking at our meeting point
Transportation during the flight experience
In-flight photography will be taken on most flights, with the opportunity to purchase photos at breakfast
A personalised flight certificate
Insurance & GST
Please allow 3-4 hours for your balloon experience.
You can feel confident booking with Floating Images
Will I be flying with the owner? Yes
Will I be flying with the Chief Pilot? Yes
Will my pilot have 2900 + hours balloon flying experience? Yes
Will my pilot have 20 years' balloon experience in the Ipswich, Scenic Rim & Somerset region? Yes
Will there be a maximum 10 passengers on board? Yes
Is the pilot a local to the area? Yes
Will I get 100% refund on my flight ticket if the flight is cancelled? Yes. T&C apply.
Do you take photos on your flights? Yes
Floating Images offers morning balloon flights all year, providing you with a unique opportunity to explore this vast and beautiful region from the air as the sun rises and sheds light on a brand new day.
We look forward to welcoming you, your family, friends and guests on board.
"I felt like I was floating on a cloud. The views were superb and Graeme gave a great commentary. Watching the sunrise across Ipswich and Brisbane and all the way to Moreton Island was breathtaking. Graeme was a great pilot and we felt so safe. It was a perfect way to start the day and I would recommend the trip to everyone. The breakfast after the flight was delicious and a relaxing way to finish an incredible experience."
Jenny