Give your Mum a gift – a treasured memory, that she will always remember this Mothers Day.
If you are looking for the perfect surprise to give your Mum on her special day then look no further a Floating Images magical hot air balloon ride is the answer!  BOOK A FLIGHT NOW !    BUY AN EXPERIENCE VOUCHER
Get together with all the siblings and share the experience with the whole family, sharing this once in a life time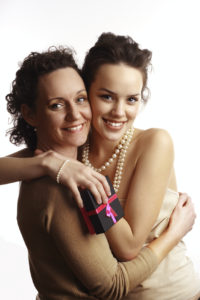 experience will be a Mothers Day of the decade.
Maybe Dad's in charge of Mothers Day this year?
Take Mum and the kids out for a magical experience that will put you in the good books and give the whole family an adventure to remember.
For as long as I can remember we have celebrated Mothers Day with a special morning breakfast in bed for mum, before handing over presents and embarking on our day.
This year for Mother's  Day, begin with a Floating Images Hot Air Balloon experience first. Floating Images ensures safety for all passengers before, during and after the flight.  Apprehensive passengers need not fear, the feeling of weightlessness coupled with the adrenaline you feel as you drift above the heritage city of Ipswich, the Scenic Rim and Somerset countryside with the Great Dividing Range as a backdrop. Your pilot will make you forget your fears and lead you on a magical journey to experience with your loved ones.
Then after the balloon flight, all the balloon passengers & the non balloon participants will be treated to a hot cooked brekkie, so mum still gets her special treat and the kids don't have to do the washing!
Your special breakfast includes a hot cooked meal at a restaurant in Ipswich. During the breakfast, the pilot will present each passenger with a personalised commemorative flight certificate and the chance to view fantastic images captured during the flight while passengers share their tales and chat about the amazing views.
A Floating Images Hot Air Balloon experience is just outside your backdoor, travel no further than a quick 30 minutes west of the Brisbane CBD and you'll be ready to partake in the trip of a lifetime a one hour City & Country hot air balloon flight.
What are you waiting for, get together with all the siblings, book for just the two of you, or take the whole family! All are welcome for this years best Mothers' Day experience. Book Now !
If Mum is too far away to spend the day with her or scheduling the balloon flight is a little difficult to organise, let her know you appreciate everything she done with a gift certificate that includes an open dated balloon flight, valid for 12 months. That way, next time she's visiting, or when she has some free time, you and the family still can celebrate her special day together. Order Your Gift Experience !
This Mothers' Day its time to spoil Mum, its time to share a memory, its time to take her on a once in a lifetime adventure that lets her know you care.