8. WEDDINGS WITH FLOATING IMAGES HOT AIR BALLOON FLIGHTS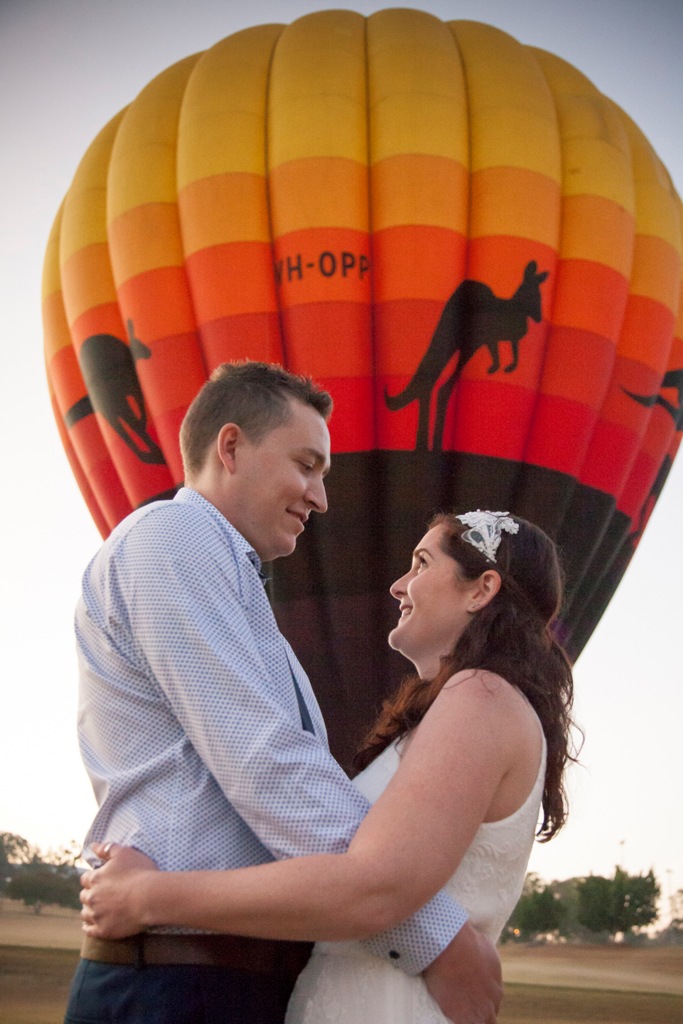 From (AUD):

$2,000.00
Duration:

4 hours (approx)
Location:

Ipswich, Greater Brisbane Region, QLD
Product code:

FIHABFPRIVW
There is something romantic about floating in the sky as a new day breaks, so if gravity can't hold your love back, why not get married in the sky? Yes, find a marriage celebrant who is happy to fly and you can get married in a hot air balloon.
Whether you want your wedding day to be traditional, casual or something different – the balloon will be totally yours. Pick the day, the number, the place, the celebrant, photographer, and, if you wish, the reception venue too. It's certainly a unique way to create unforgettable memories and celebrate your wedding or renew your vows.
If you'd like a small wedding, the witnesses can be the photographer and the pilot. Or if you want a larger floating wedding we can take the bigger balloon out to carry 10 people, or organise a second balloon to fly your guests together.
Sunrise is said to be the best time to photograph people, so as dawn slowly breaks your photographer will capture your special moment with perfect light and a stunning backdrop as we float above the valleys, peaks and patchwork farmland of the Ipswich, Scenic Rim and Somerset regions. And because we float with the breeze, there's no wind factor to ruin your hair!

Since every wedding is unique, please call us or email to discuss your dream wedding in the sky.
How your wedding ceremony or vow renewal may unfold:
- We usually meet in Ipswich 45 minutes before sunrise at our nominated meeting point in Ipswich, but otherwise we can also meet your wedding party at another pre-arranged meeting or launch point (your own property perhaps?).
- The ceremony can happen whilst in flight, exchanging vows with 360-degree views of Ipswich, Scenic Rim and Somerset regions gently unfolding before your eyes.
- Once we have landed, it's time for your breakfast reception. We can organise this at our regular restaurant venue in Ipswich where guests can join for an additional cost, or you can arrange your own reception venue.
- We fly almost every day, subject to the weather being suitable. Ballooning is a weather dependent activity and if it is raining or too windy we are unable to fly. You need to take this into account when planning a balloon wedding ceremony. If the weather is not safe for flight, you can decide if you want to reschedule the flight and wedding for another date, or if you prefer to keep the date for your wedding, the wedding may be performed on the ground without the balloon.
Price
From $1,800 (for min 4 pax)
Every person has a unique vision for their wedding day, so please call us to discuss your wedding plans in a hot air balloon in more detail.
We'll do everything we can to make your special day the very best it can be.
Wedding in the Balloon - Sarah & Josh, October 2018
Floating Images were great to deal with over the phone when booking with Ruth as well as the flight with Graeme and the crew. Customer service skills are 'second to none'. They made sure everything ran smoothly, kept us informed about weather and the flights and absolutely made our experience with them a delight!
ADDITIONAL INFORMATION:

Floating Images Hot Air Balloon Flights boutique ballooning programs can provide our soon to be wed clients with an opportunity to exclusively book the balloon solely for your use. This allows you to hire one of our hot air balloons, including pilot and crew, for you to use with tour invited guests, family & friends .
We have 2 hot air balloons that can cater for 2 to 10 people. Our larger balloon is ideal for a 5 - 10 passengers.
Either balloon is perfect for an intimate wedding, commitment ceremony or renewal of vows with a group of family & friends.
This exclusive use option can apply to our standard Floating Images Hot Air Balloon Flight program or it may be tailored to your ceremony needs based upon passenger numbers, flight location, transfers, breakfast & in-flight photos inclusions or exclusion.

Aside from our flights around the Greater Brisbane region, special regional wedding flight locations can include for example Spicers Hidden Vale at Grandchester, Ivory's Rock Convention & Events Centre or even Cherrabah Homestead Resort or any other Ipswich, Scenic Rim or Somerset region venue – contact us to find out more.
Based upon our popular boutique ballooning program wedding package prices start from $1800.00 for 2 - 4 people or $3600.00 for 5 - 10 people exclusive.
EXCLUSIVE PRIVATE GROUP WEDDING PACKAGE INCLUDES:

- personal private flight for up to 10 passengers

- Approximate 1-hour balloon flight over Ipswich, Scenic Rim and Somerset regions – a city to countryside flight
- Restaurant breakfast after the flight
- Peace of mind that you have chosen to fly with the owner-operator. Every flight is with Chief pilot Graeme who has 30 years experience
- Commencing 45 minutes before Sunrise
(Approx: 4.00 am Summer, 4.45 – 5.30 am Autumn & Spring, 6.00 am Winter)
- Meet & Greet Exclusive Wedding Party Passengers at Ipswich or nominated site
- Personalised in-flight commentary
- Passengers can assist with inflation & deflation of balloon (optional)
- Free parking at the central city meeting point
- Transportation during the flight experience
- In-flight photography will be taken on most flights,with the opportunity to purchase photos at breakfast
- A personalised commemorative flight certificate
- Insurance & GST
Please allow 3-4 hours for your balloon experience.
Complimentary transfers available from any Ipswich CBD accommodation venue.

If Brisbane transfers requested, passengers are collected and transferred from their Brisbane CBD accommodation, approx 40 minutes prior to the nominated meeting time required, to be driven to the ballooning program meeting venue in Ipswich.
Additional costs may apply.
With Brisbane transfers, clients need to allow 4 – 5 hours.
Exclusive wedding charters and regional flight packages can be tailored to suit your client needs including passenger numbers, flight location, transfers, breakfast & in-flight photos inclusions or exclusions, so please request a quote.
Request a quote