On Saturday September 15th I experienced a feeling I had never felt before, something so surreal and unexplainable that you really do have to experience it yourself to truely understand!
I've been talking to Graeme for what is going on 3 years now about his website and Hot Air Balloon Flights over Ipswich and the Greater Brisbane Area. I thought I understood what it was all about but until that Saturday morning I knew nothing!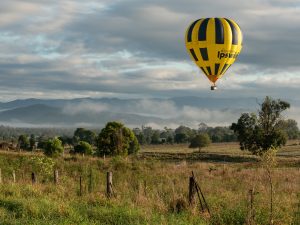 Living on the Gold Coast and meeting at Ipswich at 5.20am meant I was up for an early start 3.30am I rolled out of bed and into the shower. After I finally had myself up and at 'em I set off for the 1hr 15min drive.. Until I got half way up the road and got a flat tyre, it wasn't my first though so I quickly had the tyre changed and continued on my journey.
I called Graeme letting him know I was going to be a little late, lucky for me they were taking off from Limestone Park for the first time in a couple of months and not setting off from an alternate location.
Getting there just in the nick of time I got to help with the inflation process, a truely awe inspiring experience in itself, I didn't even think the balloon could actually be that big!Before too long we were in the basket and ready to take off… Well not really take off or lift off, it's was as though we just started floating and drifting away. Putting in absolutely no effort and feeling almost no motion what-so-ever I realised we were floating along in the breeze – just like clouds do on a sunny summers day, so effortless and calming.
Book with Floating Images Hot Air Balloon Flights to experience the wonder, romance and gentle thrills of ballooning for yourself.
The flight itself was fantastic but to be truely honest my favourite part was the people. Hearing stories from Ipswich locals, a gent who worked at the Air Force base, a couple who once farmed land down in New South Wales and long term residents with friends in nearby towns. The tales were amazing, the views were amazing, and Graeme as always was insightful, professional and an expert in the field. It's no surprise that people from all over the world have enjoyed a hot air balloon flight with Floating Images, I can definitely see how people travel within Queensland and even interstate to experience such a great hot air balloon ride.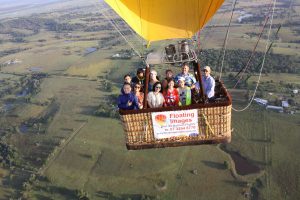 The whole flight experience was amazing and touchdown in a local farmers paddock and our delicious hot breakfasts were no exception. For someone who spends their days writing and undertaking a Masters in Journalism to be utterly wordless to explain the experience is no mean feat!
A massive congratulations to Graeme, Ruth and the team at Floating Images for putting together and running such a fantastic Hot Air Balloon experience. I think you may have just fueled my newest obsession!
BOOK A FLIGHT NOW !    BUY AN EXPERIENCE VOUCHER